If a new issue is detected, a badge indicating the number of campaigns with current issues is displayed on the new monitoring icon in the navigation.

Also, the badge on the campaign with issues inside it turns red.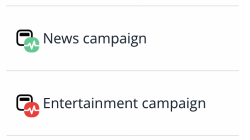 And the badge on creatives with issues turns red.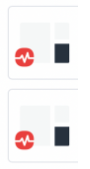 Expanding a creative shows you notifications outlining each issue.

In the example above there are two notifications. The first notification is letting you know a new creative variation was detected after the initial scan. You should review the results for the new variation by clicking the Variation B tab.
The second notification is letting you know that a new connection to Salesforce Data Cloud was added after the initial scan.
Approving issues
Click OK to approve alerts if you are happy to do so.
When there are no more current issues on a creative the creative badge will turn green and Advalidation will remember not to alert you about that same variation or connection again.